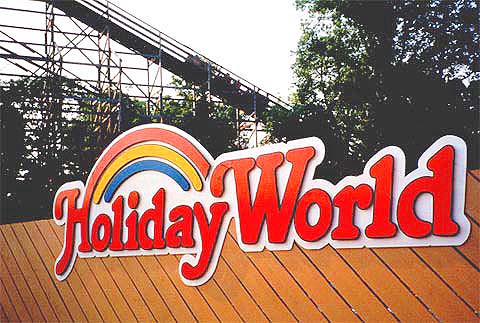 i love finding vegan fare in crazy places. i'm not just talking about potato chips and pop, but something to eat, and something sweet. my spouse scored tix to holiday world in santa claus, in-(about 2 hours south of us). the park is a must if you like roller coasters and water parks--the water park is SO amazing, it's worth the price of admission.
the park has a strict rule about not bringing any outside food into the park with the exception of formula and baby food. this was a huge bummer for me, and i ate a big plate of tofu scrambler that morning to make sure i had something semi-nutritious since i was looking at eating french fries or a (gak) iceberg lettuce salad. imagine my surprise when my hubby said, "hey they have soy stuff on an allergy free menu."
ian's soy cheesy pizza, tofutti bars, and enjoy life snickerdoodles cookies-all vegan. not exactly health food, but i was happy the park had made concessions available for vegans even if it was under the title "allergen free menu." so now y'all have a reason besides bloomington to visit beautiful southern indiana.